Special
German Negative Carbon Materials Project Settled in Chibi, Hubei
This project will mainly research and produce negative carbon materials using bamboo as the main raw material
The implementation of this project will lead the bamboo industry in Xianning to make a leap from traditional processing to high-tech and high value-added industries
Reading this article requires
In today's society, green and low-carbon development has become a common form of high-quality development. This development model emphasizes environmental protection and sustainable development, which is an inevitable trend for future economic and social development. On November 7, 2023, the Chinese production, manufacturing, and headquarters base project of carbon negative materials by German company Carbonatuten began construction in Chibi, Xianning, Hubei. This is the largest foreign-funded project in Hubei since 2023. The commencement of this project marks significant progress in green and low-carbon development in Hubei, which will effectively promote the sustainable development of the local economy.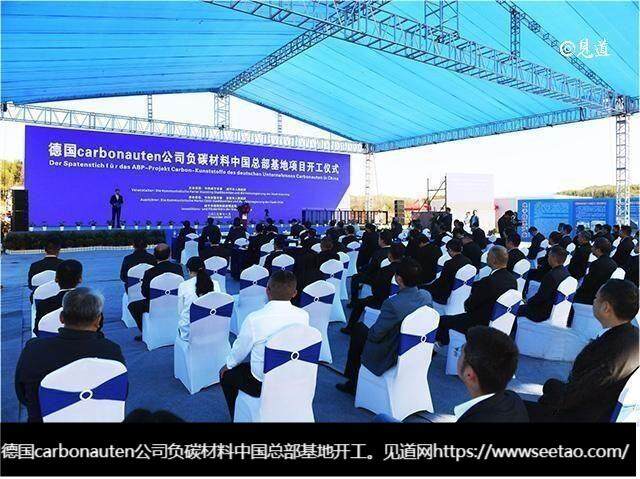 The total investment of the project under construction this time is 1.5 billion euros, equivalent to approximately 11 billion yuan, which will mainly focus on the research and production of negative carbon materials using bamboo as the main raw material. The first phase of the project will build the world's largest carbon based technology factory, expected to be put into operation by the end of next year, with an annual output of 115000 tons of negative carbon materials. The second phase plans to build a circular economy industrial park related to carbon neutrality technology, with an overall annual production capacity of 500000 tons. After the project is completed and put into operation, it will lead the bamboo industry in Xianning to leap from traditional processing to high-tech and high value-added, and is expected to gather a group of upstream and downstream enterprises applying negative carbon materials, promoting the high-quality development of Xianning's green and low-carbon industry.
Xianning is rich in bamboo resources, with nearly 2 million acres of bamboo forest, accounting for 80% of the province's bamboo forest resources. In addition to admiring the abundant bamboo resources in Xianning, the excellent business environment also attracts enterprises to accelerate their landing.
The negative carbon material production project that has started this time has the characteristics of advanced technology, excellent products, and negative carbon process. After completion, it will be the world's largest negative carbon material factory. In addition, this project is the first large-scale foreign-funded project in the history of Xianning, introducing advanced manufacturing technology, utilizing local renewable resources, facing the global market, and benefiting all humanity. It is also the second largest foreign-funded project and the first largest foreign-funded project in Hubei Province. The successful settlement of this project marks an important step in the development of the bamboo industry in Xianning. This is not only a powerful measure for Xianning to implement the decisions and deployments of the provincial party committee and government, but also an effective utilization of ecological resources, in line with the construction form of natural ecological parks and cities, and in line with the requirements of green and low-carbon development and "carbon peak, carbon neutrality". Editor/Zhao E
Comment
Please Login to post a comment