Technology
Shouhang Hi-Tech has been deeply involved in the solar thermal field for decades
In the field of solar island solar thermal power generation, Shouhang High Tech has its own technological moat
Due to the fact that solar thermal power plants are usually built in deserts and Gobi, the surface of the heliostat often adheres to dust, which affects power generation efficiency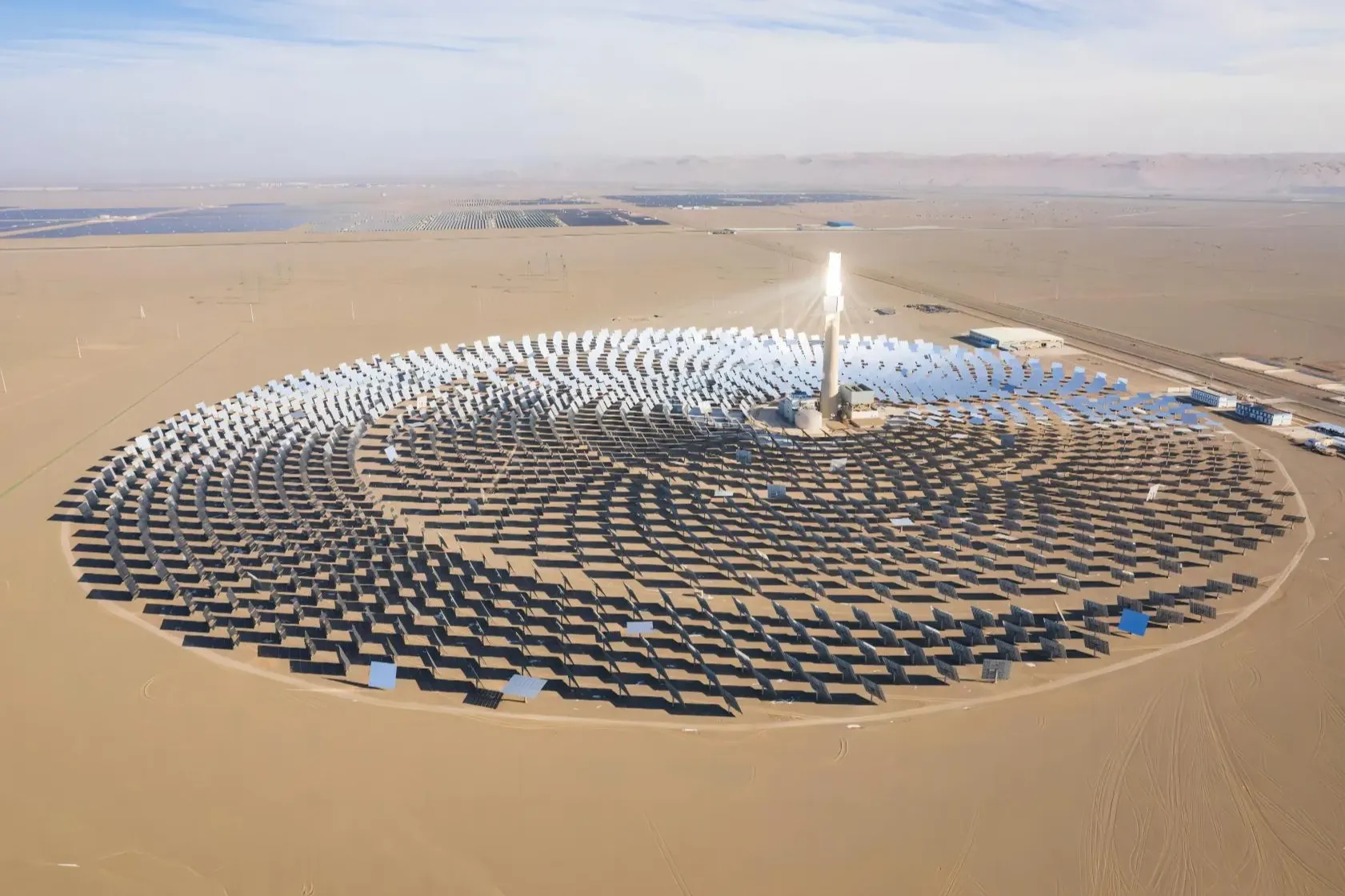 Reading this article requires
Walking 20 kilometers west of Dunhuang City, it is located at Shouhang Hi-Tech Dunhuang Salt Dissolved Photothermal Power Station, also known as the "Super Mirror Power Station". Looking down from the air, this place is like a peaceful lake. Walking into this photothermal power station, it feels like being in a steel forest in science fiction, shining and beautiful.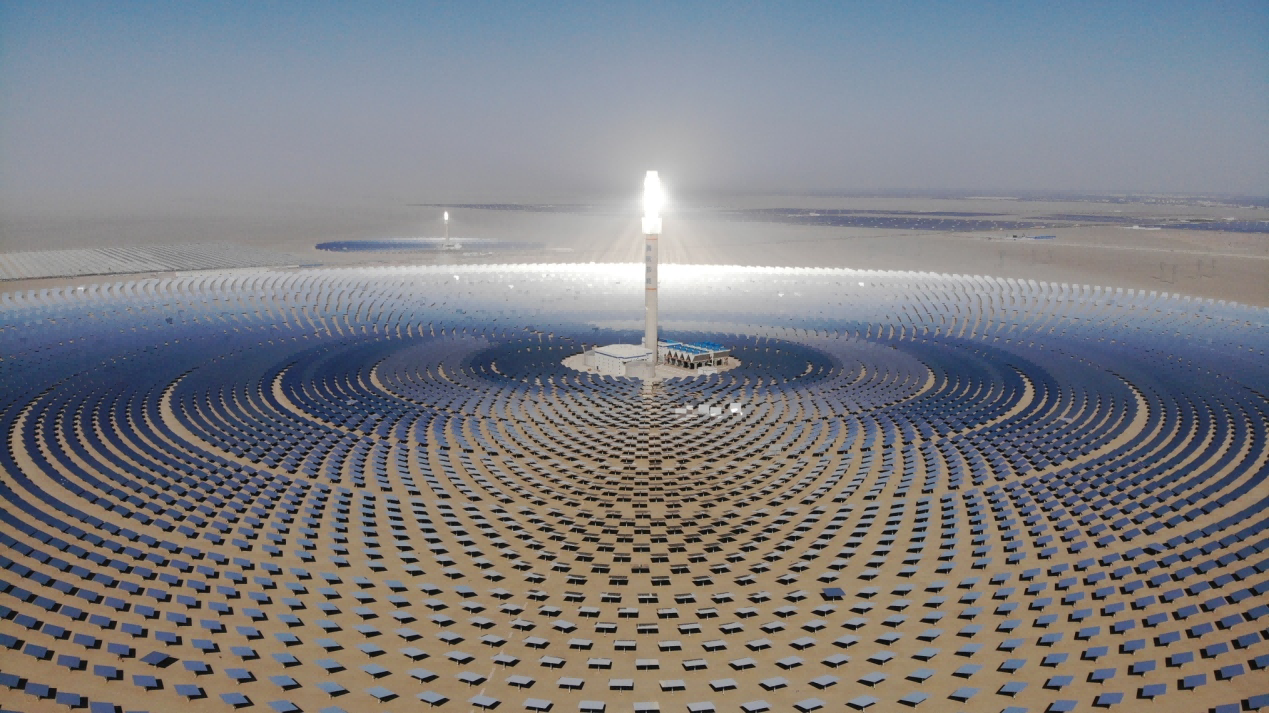 Huang Wenbo, Vice Chairman and General Manager of Shouhang Hi-Tech Energy Technology Co., Ltd., introduced: "In 2016, we built the world's third and first domestic 10MW photothermal power plant in Dunhuang to achieve 24-hour uninterrupted power generation. After the completion of this project, we completely opened up the domestic and foreign photothermal market. When we built the second phase of the 100MW photothermal power plant, we were already invited by overseas countries to participate in local photothermal projects
Solar thermal power generation, wind is rising
Since the signing of the Paris Agreement in 2016, the curtain of China's energy transformation has slowly begun, and it is precisely this year that the growth rate of China's thermal power installed capacity has entered a downward trend. Shouhang Hi-Tech, which focuses on thermal power plants as its main revenue target, has undergone a difficult transformation. The company's strategy is focused, and it is determined to deeply cultivate the solar thermal track. Has Shouhang Hi-Tech started to rebound from the bottom?
In April 2023, the National Energy Administration issued a notice to promote the large-scale development of solar thermal power generation, striving to increase the annual operating scale of solar thermal power generation in China to around 3 million kilowatts during the 14th Five Year Plan period. Affected by this, Shouhang Hi-Tech, a concept stock of solar thermal power generation, has achieved two consecutive limit hikes. This 22-year-old company has emerged from the market strategy of "clean energy+finance" in just 13 years by developing and manufacturing hard and soft strength, breaking through the trend, and entering the first tier mainstream market.
During the 6th China Arab States Expo, Shouhang Hi-Tech showcased a new type of solar thermal energy storage system technology solution. Solar thermal energy is composed of three parts: solar island, energy storage island, and power generation island. Energy storage is a large capacity, and currently our heat storage density can reach around 600 degrees Celsius. With a full load power generation of 1100 megawatt hours combined with a steam turbine generator, solar thermal power generation can be an effective means of replacing traditional energy as a new energy source, producing electricity The power quality and thermal power quality are the same, and can be directly integrated into the power grid. Mr. Huang said.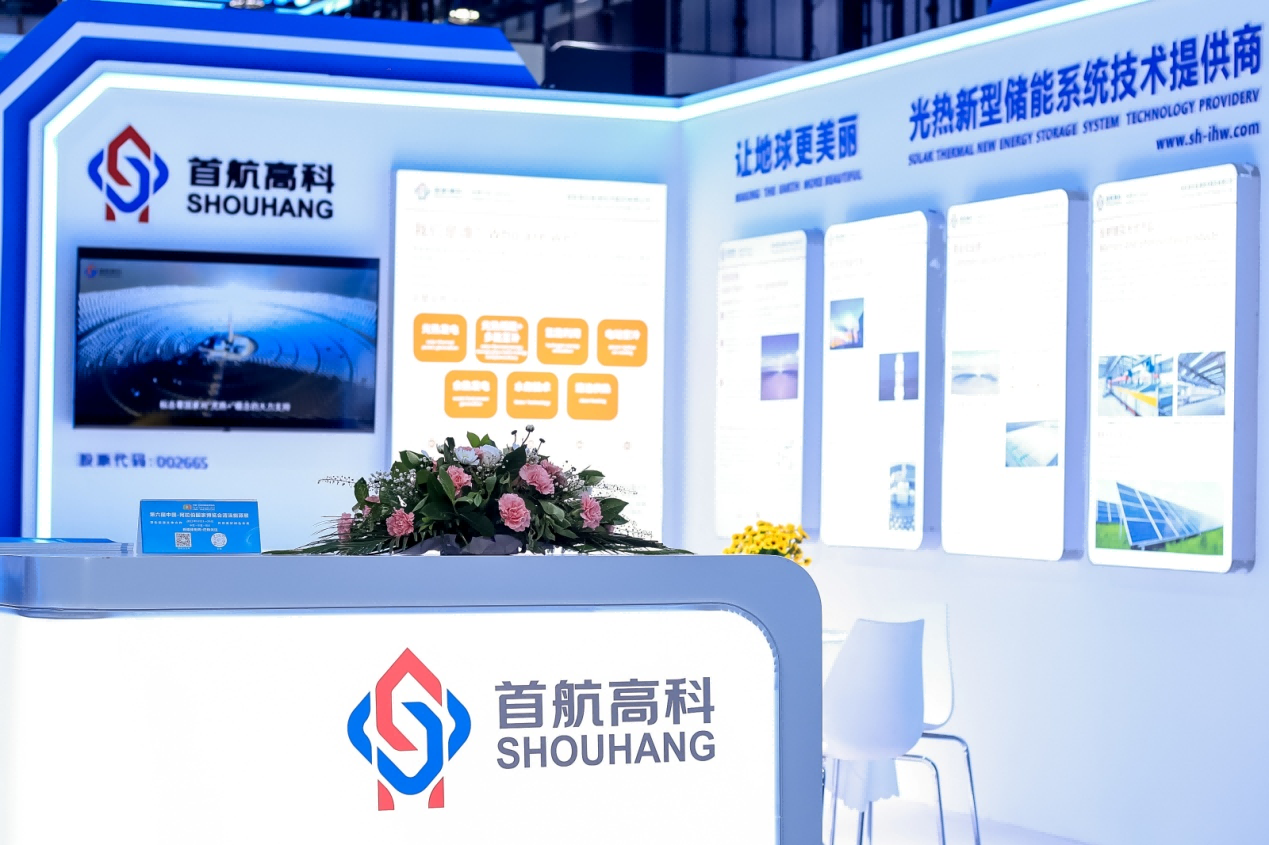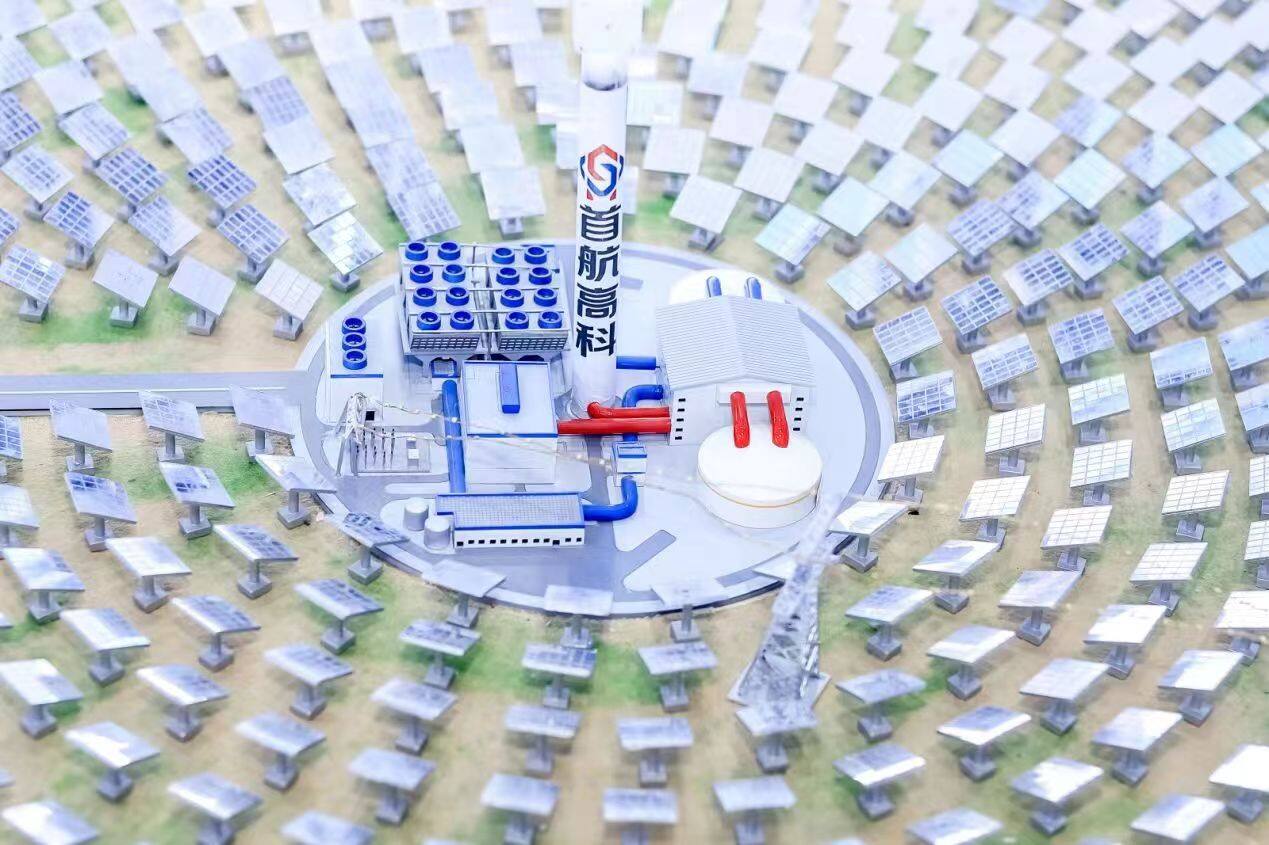 Shouhang Hi-Tech began laying out solar thermal power generation in 2010. As for why they did not choose the photovoltaic track, it may be because the domestic photovoltaic and solar energy industry had just experienced a wave of enterprise closures at that time. Choosing a crowded track does not comply with the company's policy of "early layout and slow investment".
Indeed, Shouhang Hi-Tech is a pioneer in the photothermal power generation track in China. In 2015, Shouhang Hi-Tech became the only company in China to provide one-stop services from power station design, material development, equipment manufacturing, to power station general contracting. It is also the only company in China to have both solar thermal power tower and trough technology equipment supply and EPC general contracting.
Since 2010, we have been expanding our solar thermal power generation business, relying on our enterprise technology center and postdoctoral research workstation to establish an international team for solar thermal research, design, manufacturing, and engineering management. We are continuously committed to the research and development of solar thermal power generation systems. For many years, Shouhang Hi-Tech has conducted systematic research and development in the field of photothermal power generation, focusing on condensing systems, heat absorber systems, heat storage systems, heat exchange systems, and integrated control systems for photothermal power generation. They have respectively constructed tower, slot, and disc photothermal power generation pilot and pilot systems.
Advance into technology unmanned areas
After years of experimentation and testing, Shouhang Hi-Tech has collected a large amount of measured data, compiled enterprise standards and specifications related to the design, manufacturing, and construction of photothermal power plants, and achieved significant results in the research of photothermal technology. The large-scale construction of photothermal power generation has both energy storage functions, which can achieve the role of supporting new energy by regulating new energy. At present, molten salt energy storage consumes excess electricity, mostly using electric heaters for heating. Shouhang Hi-Tech has developed a new high-temperature molten salt energy storage technology based on compressed carbon dioxide heat pumps, which uses low valley electricity and electricity from wind and light to drive supercritical carbon dioxide heat pumps to pressurize carbon dioxide and generate high temperature to heat low-temperature molten salt into high-temperature molten salt. This achieves both peak shaving and efficient energy storage, resulting in lower energy storage costs.
In the field of solar island solar thermal power generation, Shouhang Hi-Tech also has its own technological moat. According to Mr. Huang Solar thermal power generation solar island is an important component of solar power plants and also a relatively large part of investment. Shouhang attaches great importance to technology research and development and talent cultivation, and conducts core technology research and development with renowned universities and research institutions at home and abroad. It also cultivates doctoral and postdoctoral students in the design, manufacturing, and operation and maintenance of solar islands. From a macro perspective, based on different environmental conditions, the layout and selection of the condensing and heat absorbing systems in the solar island are optimized Conduct in-depth research on coupling design, including heat absorber materials, heat absorber coating materials, and reflector coating process optimization; From heliostat design technology, manufacturing technology, focusing technology, automatic tracking technology, self-learning and reconstruction technology, reflectivity enhancement technology, and complex operating conditions such as cloudy, sandstorm, ice and snow days, Shouhang Hi-Tech has conducted extensive research, talent reserves, and technical reserves; Shouhang Hi-Tech has established its subsidiary Yumen Shouhang Optics Co., Ltd., which focuses on the manufacturing of high-performance lenses and is committed to providing high-performance and high-quality lenses for photothermal projects; We have established a heliostat optical support production line and a heat absorber production line in Tianjin; Formed the most complete solar and thermal gathering technology in the global industrial chain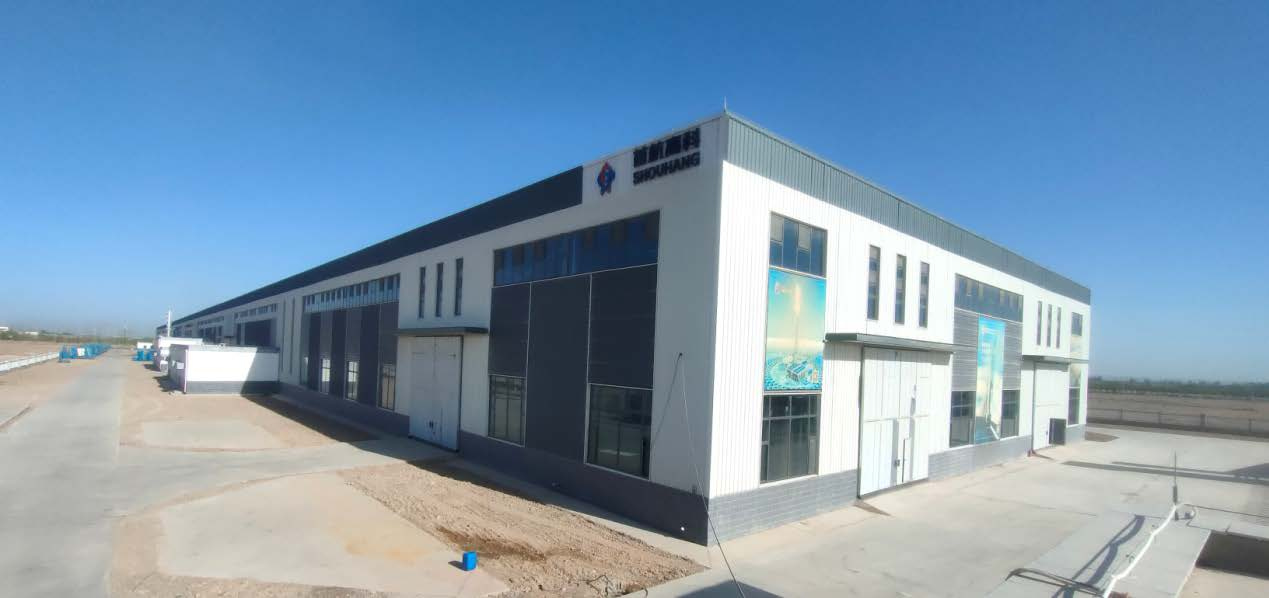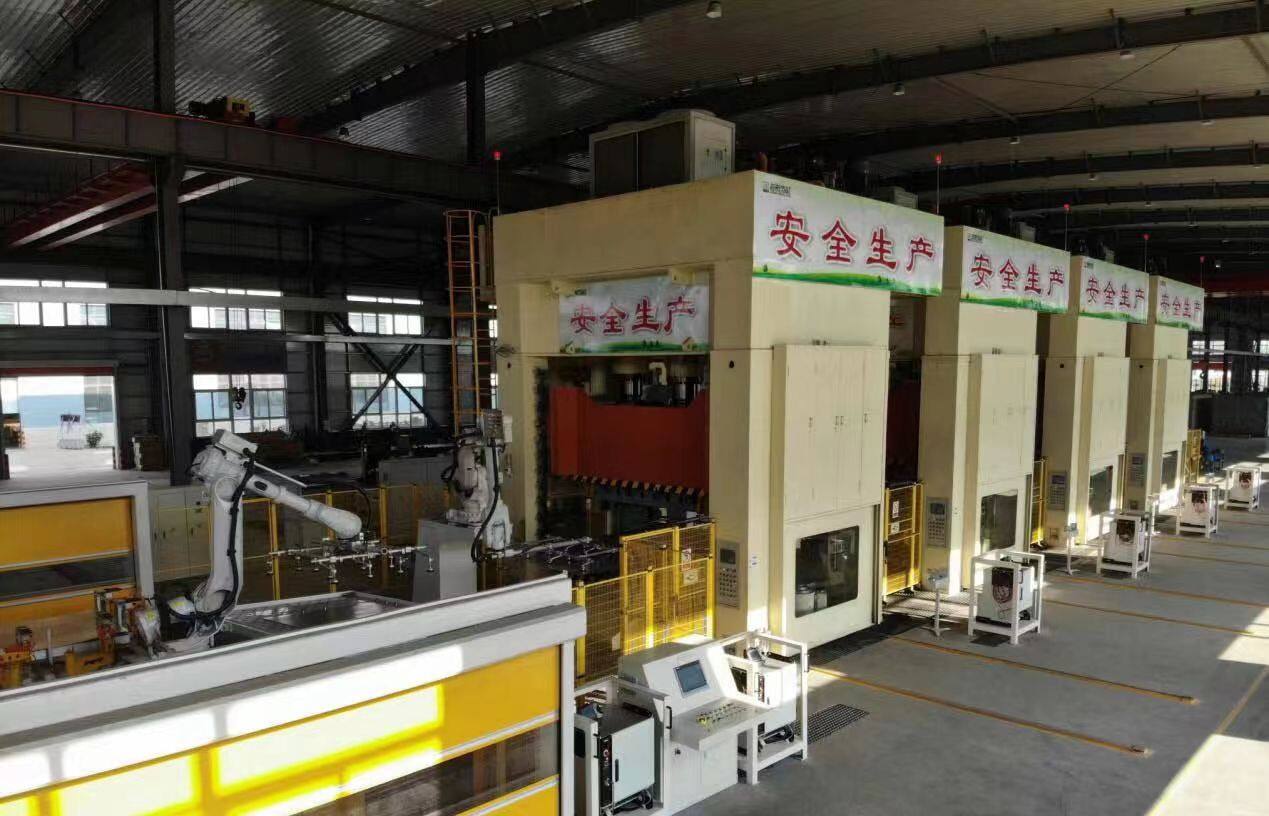 In addition, due to the fact that solar thermal power plants are usually built in deserts and Gobi, the surface of the heliostat often adheres to dust, which affects power generation efficiency. The combination of Shouhang Hi-Tech intelligent mirror and cleaning car can clean 115 square meters of board surface in 17 seconds, or even faster. At the same time, Shouhang Hi-Tech's spotlight and heat collection system adopts a dual axis robot joint and control system, which can be used for both individual and group operations, with unified command and higher efficiency.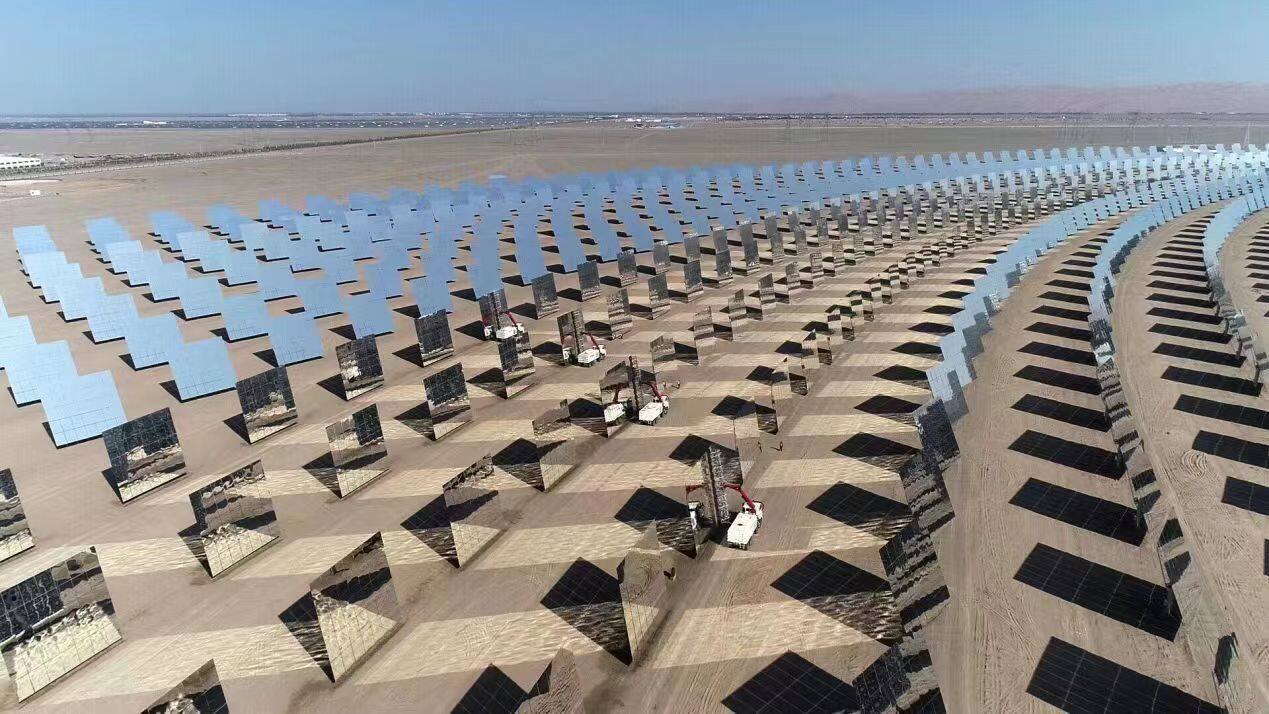 Shouhang Hi-Tech, who has been deeply engaged in the field of solar thermal energy for decades, has formed a comprehensive core service capability in technology research and development, equipment manufacturing, project construction management, power station operation, and other aspects. In recent years, Shouhang Hi-Tech has successively laid out clean energy projects, desert and Gobi "wind and fire storage" multi energy complementary base projects, "source network load storage", "large base" and many other projects in Jiuquan City, Gansu Province, Xinjiang Uygur Autonomous Region, and Jingxian County.
"The the Belt and Road Initiative has been launched for ten years. In the past ten years, Capital Airlines has mainly developed the field of new energy power plants. It launched new energy products around the development concept of green water, green mountains, golden mountains, and harmonious coexistence between man and nature. At the beginning, the air cooling technology of power plants was monopolized by overseas countries. In order to solve this problem, we actively responded to the national" 11th Five Year Plan "ten major equipment localization plan, and communicated with three Swedish enterprises to learn, Collaborating with domestic universities such as North China Electric Power, Beihang University, and Xi'an Jiaotong University, we overcame challenges one by one from research and development to design, from design to product, and from product to engineering, and ultimately won the second prize of the National Science and Technology Progress Award After years of development, the company has achieved direct air cooling from small to large, expanded from direct air cooling to indirect air cooling, and achieved the highest market share of 1000MW level. The products have been sold to countries such as the UK, South Korea, Australia, West Africa, Pakistan, etc.
With the maturity of future technology, photothermal power generation will bloom and bear fruit worldwide. From the Hexi Corridor, the Qinghai Tibet Plateau, the Tarim Basin in China to Kazakhstan, Uzbekistan, and the African continent abroad, there are abundant places of light and heat. One by one, magnificent solar thermal towers will rise from the ground. Solar thermal photovoltaic (PV) is of the same origin, and the two complement each other. In the future, the size of the photovoltaic market will determine the vastness of the solar thermal market. Seizing the fragrance of life, another Ningde era is about to rise. Editor/Zhao E
Comment
Please Login to post a comment